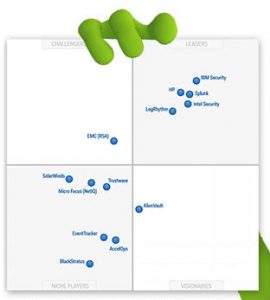 Advanced analytics are increasingly becoming major factors in the analytics market. The Magic Quadrant 2015 review evaluates 16 of the leading providers of advanced analytics platforms that enable the user to build solutions from scratch. In the report, advanced analytics are defined as analysis of data using sophisticated quantitative methods to produce insights that traditional approaches are unlikely to discover.
The Magic Quadrant places the vendors in four categories on a graph (clockwise from top right): Leaders, Visionaries, Niche Players, and Challengers. The criteria are based on a standard 2 dimensional graph with the Y-axis measured as 'ability to execute,' and the X-axis measured as 'completeness of vision.'
Leaders are defined as vendors with a strong track record in the market. They are likely to influence market growth and direction. The leaders in 2015 were:
Visionaries are the smaller vendors that embody trends in shaping, or will shape the market. They represent an opportunity to skip a generation of technology or provide some compelling new capability that offers a competitive advantage. In 2015, these vendors include:
Alteryx
Microsoft
Alpine Data Labs
Niche players in 2015 are those vendors who are often still maturing their solutions. They do not yet offer enough to make a strong 'default' choice, but they are likely to improve quickly over the coming months if they continue to develop their products and demonstrate success. Niche players in 2015 include:
Angoss
Salford Systems
Revolution Analytics
Challengers in the market can fall into one of two categories. They are likely to be long-term competitors that need to revitalize their vision; or they may be well-established in adjacent markets and are just entering the advanced analytics market. These companies may eventually become leaders if they can prove influence on the market:
The inclusion criteria for 2015 was adjusted from previous years and vendors were required to:
Offer advanced analytics functionality as a stand-alone product. The overall product must be application-neutral and cannot be a packaged application for a specific domain/business problem.
Offer native support for the following capabilities
Data access
Data preparation/exploration
At least four predictive analytics techniques
At least three descriptive analytics techniques
Model testing and validation
Model deployment
Market presence including generating $3m in advanced analytics related software license revenue and at least 15 complete customer survey responses.
Existing users should start to re-evaluate choices around two to three quarters before their current contract expires. It may well be useful for potential users of advanced analytics to look beyond the traditional leaders and weigh up their options with one of the challengers, niche players, or visionaries – depending on their requirements as a business. For the full results, see the 2015 report from Gartner.
Big Data and related technologies – from data warehousing to analytics and business intelligence (BI) – are transforming the business world. Big Data is not simply big: Gartner defines it as "high-volume, high-velocity and high-variety information assets." Managing these assets to generate the fourth "V" – value – is a challenge. Many excellent solutions are on the market, but they must be matched to specific needs. At GRT Corporation our focus is on providing value to the business customer.