It is almost a given that in this day and age, an organization will be mining its own customer data for consumer habits and insights into the marketplace. But what if your company was able to track the competition's data as well – ethically, of course – but in a profitable fashion? While this data isn't just going to fall into your lap, good luck going directly to a competitor's CEO and just asking nicely for their most recent quarterly sales figures. What if you could find out how often or how much people use your competitors' products?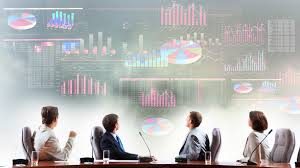 It's prime time for businesses to start a competitive intelligence process, continuously gathering data online from social media, competitors' website changes, news sources and posted documents, in the search for those little gold nuggets in the digital stream that can provide valuable insight into what your competition is up to.
This year it is important, argues Mark Van Laeke, writing for Information-management.com, to blend a "baseline of competitive intelligence … with proprietary data sets obtained on the market."
Added to this, a plethora of third-party data is available to those who dig a little below the surface. Three market trends have been apparent recently and, rightly, should be considered.
Vendors that provide marketing data for resale (see: Acxiom, KBM Group, Bluekai, etc.). It is estimated that half of firms producing Big Data sets sell their digital data on to third parties. This is a major side-earner for some companies, netting $12m in 2012, for example.
Telecommunication firms and tech businesses seem to have the most for sale, as well as using the most themselves. However, it is insurance companies that seem to be able to make the biggest amounts of money from selling their data.
Manufacturing firms and energy companies sell the least amount of data. Somewhat surprisingly, the companies who buy the least tend to be involved in consumer goods and media – in spite of the obvious applications and value that external, third-party data can provide.
In relation to the third point, one expert in the field, Keith Sayewitz – the chief marketing officer for Big Data Exchange, a "stock market [for] … big data sets," – tells us that this third-party data should really be used more: "Imagine, if you're a brick-and-mortar retailer, and every consumer walked in with a sign showing you what they had been shopping for in the last month."
Gathering external data, though, is rarely a core enterprise for many businesses. For one thing, it's not proprietary, and market research generally centers on the high-value tasks. However, this doesn't mean it should be overlooked. As long as there is access to reliable and solid information, it is the clever analysis of the data that creates a competitive advantage.
Big Data and related technologies – from data warehousing to analytics and business intelligence (BI) – are transforming the business world. Big Data is not simply big: Gartner defines it as "high-volume, high-velocity and high-variety information assets." Managing these assets to generate the fourth "V" – value – is a challenge. Many excellent solutions are on the market, but they must be matched to specific needs. At GRT Corporation our focus is on providing value to the business customer.