Advanced analytics is a top priority for many businesses. While it is hardly new, having existed for over 20 years, big data has accelerated its importance within all kinds of businesses. Many business functions now have a legitimate interest in the capability offered by better decision-making.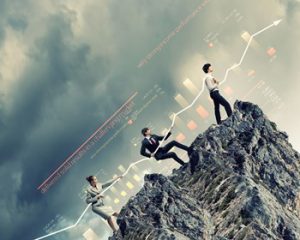 Basic analytics, says research director at Gartner Alexander Linden in a press release, can only ever provide a general summary of the data. Advance analytics goes much further, delivering a deeper data knowledge and granular data analysis. The rewards of this data-driven decision-making are an often "powerful boost to business outcomes."
The problem is that many companies have been promised this seismic change before, write Dominic Barton and David Court for Harvard Business Review, and they are understandably cautious about sinking yet more capital into a white elephant. The time has come, however, to take a pragmatic approach to big data and advanced analytics—an approach that must necessarily be tightly focused on how to use the data they have to make better decisions.
To fully exploit big data, three capabilities are required: The ability to identify, combine, and manage multiple sources of data; the capability to build advanced analytic models for predicting and optimizing outcomes; and, most critically, management must be able to push through changes to an organization so that the data and models yield the better decisions. To achieve this, a strategy on how to use the data and analytics and deployment of the right architecture and capabilities are the underpinning features.
To improve performance with advanced analytics, companies need to develop their strengths:Use multiple data sources
1. Use multiple data sources
Creatively source both internal and external data and upgrade the IT capabilities to successfully and meaningfully merge them.
2. Use models for prediction and optimizations
Build models that balance complexity with ease of use, and then focus on the biggest drivers of performance.
3. Ensure organizational transformation
Update processes and develop the capabilities needed to enable tool use. These need to be simple and understandable by the "front line".
These approaches will not be easy, and adjusting an entire business culture and mind-set will mean a multifaceted approach incorporating training, role modeling, incentives and visible metrics that reinforce behavior. Big data is a constantly changing field and companies should be acting now. Rather than massive overhauls of the company, the focus should be on becoming effective at sourcing data, building models, and transforming the business culture. This will create the flexibility required to deal with rapid change.
As more and more companies learn these core skills and successfully apply them, the superior capabilities offered will very soon become a decisive competitive asset.
Big Data and related technologies – from data warehousing to analytics and business intelligence (BI) – are transforming the business world. Big Data is not simply big: Gartner defines it as "high-volume, high-velocity and high-variety information assets." Managing these assets to generate the fourth "V" – value – is a challenge. Many excellent solutions are on the market, but they must be matched to specific needs. At GRT Corporation our focus is on providing value to the business customer.